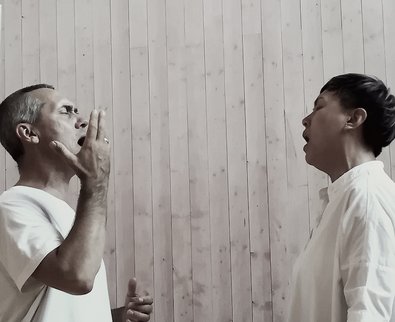 Therapeutic Voice Work
- Private sessions
- go here for swedish version -
HOW?
Through a combination of several voice and hands-on-techniques, I gently guide you and your voice so that it may liberate itself – and, at the same time, liberating you.

As your voice is freed from the limitations of life, it also liberates in you what wants to be seen, respected, freed and reclaimed.
In this way the issue or the treasure can be left behind or empower you. What ever is needed will happen
With every new tone, sound and timbre you conquer (liberate)
you gain new lands, new opportunities and new abilities to the life you live.
You liberate your voice and your voice liberates you. Thats the math.
All that is needed is your will and free effort.
THE STORY OF YOUR VOICE
The development, from your first sounds as a newborn, to the melodic singing voice –happens by itself.
Through the inate ability of imitation, we adapt to a huge world of sounds, tones and speech.
The voice is originally there to heal and restore inner balance and of course to communicate the whole register of who you are and what you need.
Yet, the culture of our time, the judgements and conclusions that we adapt to regarding voice use and singing – they allcontribute to the mental and somatic tensions we carry or activate while giving voice.
Breathing and voice takes a hard time to work with in a natural way and in the way you would need it to work for you.
The way you live your life and the way you relate to yourself and the world – these things influence your body, your breathing, your posture and how you use your voice. The limitations and the possibilities within your voice reveal your life story, your inner state and how you relate to others, to life and your self.
The voice is truly an amazing living metaphor of life itself.
THE GOAL
However, the voice is not just there to be read and understood.
It is also possible to change and cultivate.
If you are willing to change and liberated your voice, then also your life and living will change and liberate.
When your voice opens up, new possibilities will show up. New choices in life can be made!
It is an amazing and wondrous fact that proves itself again and again.

Our goal is the liberation of your dynamic and personal voice and its flexibility; the freedom to sing, sound and speak the way you need to and as an expression of who you truly are - right now.
Another goal is also that the voice work liberates life itself from the internal restrictions and tensions.

THE DEEPER PATH - TRAUMA PROCESSING

If you want to go deeper, it is also possible. If you are suffering from a life trauma, these are more or less present in your life and assert themselves in one way or another - compelling, limiting ....
Your voice, if I listen with that focus, reveals a bridge to the times and spaces in your body as well as in your life story, where the trauma lives enclosed and isolated but nonetheless parasitizes you and your life and controls your life choices according to its own needs. Close to how cancer works.

There is a connection in your voice to those places, but it is a path you hardly voluntarily tread. The conclusions and judgements you have regarding yourself and your past also put obstacles in the way of your investigation.
However, your wordless, sounding, toning voice moves beyond the cognitive, beyond what can or must be understood to be resolved. And now, by allowing me to guide you with your voice and through your voice, you are the willing coworker ready to create a bridge to these isolated "trauma islands".

You are thus fully active in the contact of these inner places by using your voice as I guide you to, the way I guide you. You are aware of what you are doing with your voice and you sense what you experience. However, you are not intellectually active and thus do not stop the process through making conclusions and judgements on the way.
And this is the very essential of the therapeutic process. Therein lies the path to healing.
A trauma can be perceived as an energy organism separated from the whole that requires energy to survive. The specific energy a certain trauma needs, it gets by controlling your emotional life, your thought patterns and your life choices - in such a way that you, literally, leak life energy to the trauma.

You could say that every trauma carries a fear for its life and does everything to survive. Fear lives in the trauma.
But we can do something about it.
So now:
When such a non-cognitive connection is created between the past and the voice-active present (Here where you are right now, active with your flowing voice), a neutralization will begin to take place, a neutralization of the trauma and its fear.
Neutralizing the trauma does not change what actually happend, however it changes the way it affects your life here and now.
Your story takes on a different value. In this lies the reevaluation of your past.
The result is a freer self and a freer now.
Verbal communication are part of this work. To cognitively grasp something essential is like putting a protective veil around the newly discovered.
But I want to emphasize that it is in the sounding and toning itself, the way I guide you, that the healing and reevaluation lies.

_______________________
Therapeutic Voice Work is based on and connected to the voicework of Alfred Wolfsohn's (1896-1962) voice work and
Voice and Movement Therapy founded by Paul Newham and has, in my case, developed into its own unique form over several decades of therapeutic work with people of very different backgrounds and stories.
Welcome!
* * * * *
Book your own session (approx 60 min)
First time visit 400 sek (40 €)
4 times/month 2400 sek (240 €)
2 times/month 1400 sek (140 €)
Single sessions 800 sek (80 €)
Sessions being not in my studio 800 sek (80 €)
Sessions are paid in advance.
The full fee is only refunded if cancellation is made no later than 24 hours before.
After that, only 50% is refunded.
Questions and booking:
call +46707512145
or mail theliberatedvoice@gmail.com
Read about "Singing and courage" >